Carpet Tech Crew Member - $1800 - $2500 EVERY 2 WEEKS!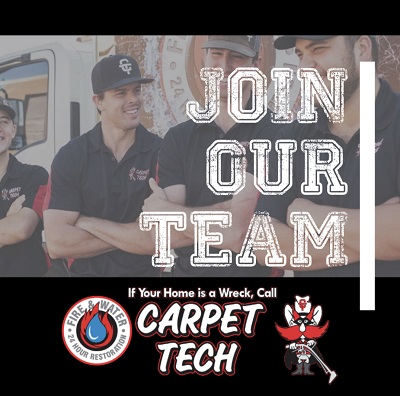 Medical

Dental

Vision

Life

PTO

Family Atmosphere/Culture
Carpet Tech is working to build relationships with our customers. With offices located in Lubbock, Amarillo, Midland, Odessa, Collin County, & Clovis, we are able to service the South Plains, Panhandle and Eastern New Mexico area.
We are the most recognized cleaning and restoration company in the region.
GENERAL: The primary function and focus of this position is be a motivated hardworking individual, seeking opportunities to learn and grow within the company, and strive to be the leaders in the service industry for all types of floor cleaning (carpet, tile, wood, concrete, natural stone, etc.), stretching & repairs, and water restoration.
ESSENTIAL DUTIES: The following statements describe the principal functions of this job and its scope of responsibility, but should not be considered an all-inclusive listing of work requirements.
Work alongside the Crew Chiefs to ensure that all work orders are completed in a timely, efficient, profitable, and effective manner

Be on-call and available to respond to emergency situations after regular work hours when assigned.

Be diligent and attentive to the customer's needs to ensure all expectations are met.

Perform additional duties as assigned, including cross-training in other functional areas to cover absences and assist with larger jobs when necessary.

Maintain company vehicles by restocking required materials to perform job duties adequately.

Make confident and accurate decisions regarding use of equipment, tools, material, and manpower.
QUALIFICATIONS:
Ability to read, analyzes, and interprets technical procedures, or governmental regulations.

Ability to effectively present information and respond to questions from groups of managers, clients, and customers.

Ability to deal with problems involving several concrete variables in standardized situations.

Ability to communicate tactfully and courteously with customers and employees.

Ability to remain calm in stressful situations.

Ability to take a teamwork approach to the job by cooperating with others, offering to help others when needed, and considering larger organization or team goals rather than individual concerns. Includes the ability to build a constructive team spirit where team members are committed to the goals and objectives of the team.
EDUCATION:
High School diploma (or G.E.D.)

2+ years of job related experience preferred, but not required
Carpet Tech is an Equal Opportunity Employer

Job Type: Full-time and Part Time available!

Experience: Customer Service: 1 year (Preferred)

Education: High school or equivalent (Required)

Location: Odessa, TX (Preferred)


License: Valid Driver's License (Required)

Work authorization: United States (Required)