Back to Events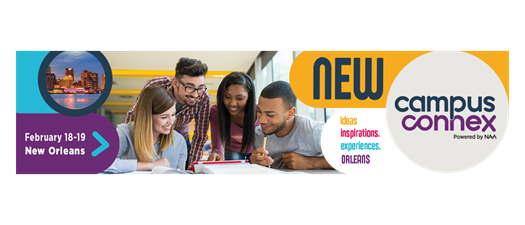 NAA CampusConnex
Tuesday, February 18, 2020
to Wednesday, February 19, 2020
New Orleans, LA Follow registration link for more information
Event Details
The premier event for collaborative learning, practical discussions, thought-provoking topics and actionable takeaways for student housing professionals.
EDUCATION
We're designing a stellar program with a variety of learning formats to ensure there's something for everyone.
Breakout Sessions
On Wednesday, select from nine 45-minute sessions to choose the path that best fits your needs. Each session will have experts guide you through the chosen topic and ensure that you walk away with clear takeaways!
CampusConnex Lab Speakers
Tuesday, February 18, 11:30 a.m. – 4 p.m.
Attendees came together for the all-new CampusConnex Lab—all about focus! This new format created an opportunity for collaboration during roundtable discussions with fellow attendees as well as a mix of speakers on industry issues and a personal mindfulness exercise—all guided throughout the the day by an emcee.
Emcee
Curt Steinhorst
Entrepreneur and Founder of Focuswise
On mission to rescue us from our distracted selves, Curt Steinhorst is the bestselling author of Can I Have Your Attention? After years of studying the impact of tech on human behavior, Curt founded Focuswise, a consultancy that equips organizations to overcome the distinct challenges of the constantly-connected workplace.
Curt's unique insight and entertaining speaking style has captured the attention of audiences worldwide. He has coached executives, TV personalities and well-known professional athletes on how to effectively communicate and create focus when they speak to audiences, lead their employees and engage their customers. Curt's personal experiences leading Gen Y and his direct work with business leaders and top performers make him a powerful voice for and to the emerging workforce.
The Freak Factor: Making Employees Better by Helping them Get Worse
David Rendall | Author of FREAK, Leadership Professor, Standup Comedian
Tuesday, February 18 | 12:10 p.m. - 12:30 p.m.
During the past 15 years, David Rendall has spoken to audiences on every continent. His clients include the U.S. Air Force, Australian Government and Fortune 500 companies such as Microsoft, AT&T, United Health Group, Fannie Mae and State Farm.
Prior to becoming a speaker, he was a leadership professor and stand-up comedian. He also managed non-profit enterprises that provided employment for people with disabilities. In between presentations, Rendall competes in ultramarathons and Ironman triathlons.
How to Attract More Residents
Michael Huereque | Executive Vice President at Agency FIFTY3
Michael Huereque has 10+ years of experience in both traditional and digital marketing. Five of those years have exclusively focused on multifamily housing and he specializes in work for student housing providers. A self-proclaimed data geek, Michael is on a mission to transform the way multifamily marketers target, execute and track digital campaigns and leads.
He graduated Top-10 from the University of Texas at Austin Creative Advertising program and has received a Gold ADDY award for interactive web design. Agency FIFTY3 has won 27 national awards since 2018.
Hospitality in Housing: An Elevated Service Expectation
Erin Mahone | National Director of Hospitality and Resident Relations at Campus Life & Style
Erin L. Mahone is the Director of Hospitality and Resident Relations for Campus Life & Style. With 10+ years of experience in Student Housing Operations and Training, Erin's focus and passion lie in creating and enhancing the customer experience! Erin created, developed and implemented a 5-Star Service Training platform intended to bridge the gap between luxury hotel hospitality standards and the student housing experience. Erin's energy is contagious, and her expertise is sure to bring a unique perspective to the conversation!
General Session Speaker
Our keynote speaker, Judi Holler, was brought in from outside of the industry to inspire and motivate attendees!
Fear is My Homeboy: How to Get Brave and Start Taking Action
Judi Holler | Personal Brand Expert
Wednesday, February 19 | 9 a.m. – 9:45 a.m.
Judi Holler is a professionally trained improviser and alumni of The Second City Conservatory in Chicago. She started working in the hospitality industry at the age of 13 and spent 15 years working in the convention and meetings industry, specializing in sales and marketing for companies like Marriott, Omni and Starwood Hotels before starting her company, HOLLA! Productions, in 2013.
Holler is a past president of Meeting Professionals International, Chicago Area Chapter and was named one of the 40 under 40 in the meetings industry by Connect magazine in 2015.
Education Advisory Board
We've partnered with student housing experts to help shape the CampusConnex Education program for 2020. These highly experienced industry professionals will make sure that this year's program offers cutting-edge, relevant and actionable advice!
Certified Apartment Manager (CAM) Student Housing Micro-Credential
Student housing presents a distinct set of management concerns that differ from those of conventional rental housing. The new CAM Student Housing course focuses on these differences, giving CAMs the knowledge they need to successfully address them. By taking this course, you will be prepared to sit for the CAM Student Housing micro-credential exam. For more information, click here. This course can also be taken as a standalone course: The Principles of Student Housing.
CAM Student Housing Micro-credential for CAM credential holders: $225
*Purchase with registration and receive a 25% discount off the regular price!
Principles of Student Housing course: $300
*Purchase with registration and receive a 25% discount off the regular price!
Tuesday, February 18
Storyville Hall/Celestin Foyer
8:00 a.m.
Attendee/Exhibitor Registration
8:30 a.m.
NAA's Executive Roundtable (Invite Only)
CampusConnex Lab: The Freak Factor
1:00 p.m.
Roundtable Discussions: On-boarding New Hires Into Your Company/Culture
CampusConnex Lab: Industry Spotlight
3:20 p.m.
CampusConnex Lab: Industry Spotlight
4:00 p.m.
Wednesday, February 19
Attendee/Exhibitor Registration
The Student Pricing Disconnect: Pain Points and Solutions
10:00 a.m.
The Bank of Mom and Dad: What Drives Value?
Student Housing in the 20s – New Insights form NAA Research (Invite Only)
Practical Insights on Developing Your Career in Student Housing
10:50 a.m.
The Future is Here – Self-Guided Tours
11:30 a.m.
Designing Interiors: Authenticity in a Virtual World
Top Trends in Lifestyle, Tech, Safety, and Amenity Preferences
How to Overcome a Bad Turn and Late Delivery
3:15 p.m.
Future Forecasting: Are You Prepared for Enrollment Shifts?
Voodoo on the Bayou Closing Experience